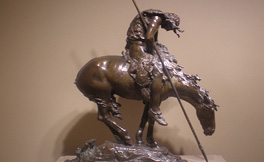 James Earle Fraser was only 17 when he designed and first sculpted the weary "End of Trail" in 1894.
It was for the Panama-Pacific International Exposition held in San Francisco in 1915 that Fraser produced his most recognized work. He intended for it to be cast in bronze, but material shortages due to the war made this project impossible. In 1920, the city of Visalia, California, obtained the statue and placed it in Mooney's Grove Park, where it remained for 48 years. In 1968, the National Cowboy & Western Heritage Museum acquired this original plaster statue from Visalia in return for a bronze casting of the original where it still stands in Visalia today.
The history of it is shared by the Hamiltons as they were some of the original founders of Visalia and Jim Hamilton always held an appreciation for the brilliance of the statue. When he unexpectedly came across information that the current copyright for the image was no longer valid, he bought the sole rights to use it, thus giving Hamilton Ranches, Inc. the infamous "End of Trail".